A picnic is a great idea when you're fighting cancer
Everyone loves a picnic – whether you are taking a trip to the beach, the park or a walk through the countryside, there is nothing quite like eating in the great outdoors.
If you have cancer and are undergoing chemo treatment, it's important that you do what you can to stay healthy and maintain a positive mind.  A trip to the park or a walk with family or friends away from the hustle and bustle of everyday life is one of the things you can do.  Spending time outdoors, basking in nature, breathing fresh air and enjoying the sunshine is a great stress buster, improving your mood and reducing anxiety. But do take extra care in the sun – chemo drugs can make your skin more sensitive. Go armed with long cotton sleeves, a hat, plenty of water to keep hydrated and of course, a tasty picnic.
Here are just a few picnic ideas for inspiration:
Antipasto on a stick
A great idea on how to get all your favorite foods into a single snack! We loved this one because it is just so simple to make, extremely adaptable, will go anywhere and tastes great.   Don't like olives; leave them out! Let your creative taste-bud juices flow – try artichokes, mini peppers, grapes, figs, different meats or cheese – wherever the mood takes you… or whatever you have in the refrigerator!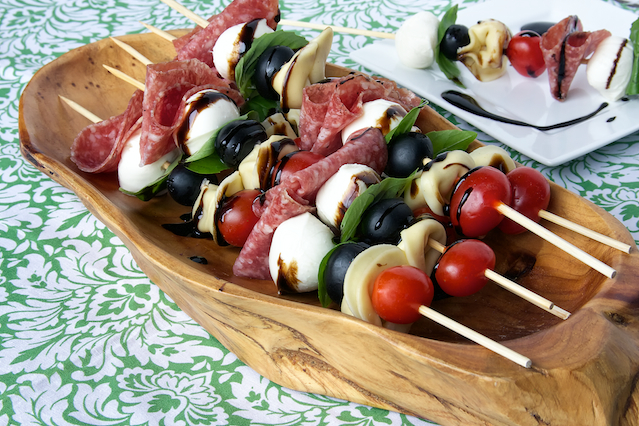 Israeli Couscous Salad with Smoked Paprika, Tomatoes, and Mozzarella
This couscous salad is phenomenally tasty! Inspired by summer it is packed full fresh healthy ingredients – just the right thing to take on a picnic.  And apart from cooking up the couscous, it's just a matter of throwing it all together and giving it a mix.
Green Goddess Hummus Sandwich
This is more than just a hummus salad – the make or break of this picnic special is the quick-pickled red onions and carrots that will send your taste buds into a frenzy!  You can prep this in advance and store in your refrigerator – so the sandwiches can be constructed with all the yummy fillings on the day of your picnic.
Falafel Scotch eggs
A different take on a traditional British snack. These vegetarian Scotch eggs are a healthier version of the real thing and will make an unusual but tasty addition to your picnic. They do take a bit of time and are a little bit fiddly – just because there are several stages to making them.  So, if you have a bit of time on your hands, why not give them a go.
Blueberry Brownies
Our two favorite things, blueberries and chocolate. Blueberries are a wonderful addition to a brownie, giving it a dense, fudgy chocolate flavor with a fruity edge while maintaining the classic papery and crinkly brownie top.  Make sure you read the 'Bakers Notes' on the link for tips on how to ensure the fruit doesn't sink or the bake goes soggy!
Strawberry Smoothie
If you're finding food a struggle why not pack a summer smoothie to keep you going.  This one's a fruity blitz of fresh strawberries, bananas and orange juice.
Please be aware of allergies as well as any ingredients that could potentially conflict with your meds – ask your medical team if there's anything you should be avoiding. Make sure you slap on a high factor and wear a hat and clothing to shield you from the sun's rays. Chemotherapy and other cancer treatments can make your skin more sensitive so it's important to be extra careful.