At a glance:
Diagnosed with stage one breast cancer
Drug Regimen: Docetaxel/ Cyclophosphamide
Saved 98% of hair
---
Rachel is a 37-year-old single mom of a four-year-old daughter and has been diagnosed with stage one breast cancer.
Rachel's diagnosis
"When I was first given my cancer diagnosis, my biggest fear was chemotherapy because I didn't know if I would need respite care. As a single mom, I was worried about how I was going to look after my daughter through the treatment.
"I also feared losing my hair. When I explained to my daughter that this might happen, she was scared, she even cried. Therefore, it became even more important for me to save my hair – both for my daughter but also for my own self-dignity through the cancer treatment."
Rachel was prescribed four rounds of Docetaxel/ Cyclophosphamide chemotherapy.
---
Rachel's experience with cold capping
Rachel was told about Penguin Cold Caps by her doctor at UCSF Medical Centre. "My doctor said I would be very satisfied with Penguin Cold Caps because they had very high efficacy, so I chose to go with them.
"Theresa Daniels, a Penguin Cold Caps rep, stayed with me on the phone while I placed my order. It was simple and the caps were delivered directly to my house for me to take to the UCSF hospital.
"My daughter was a lot happier – she kept telling her friends that I wasn't going to lose my hair because I was going to wear the cool cap."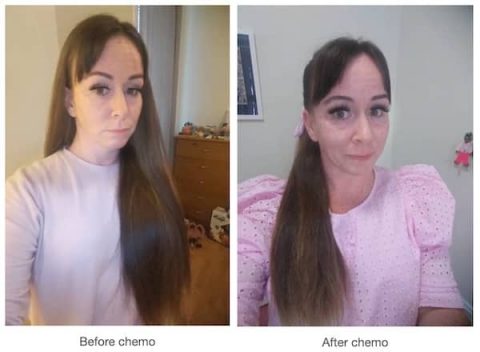 Rachel's partner became her cold capper during her infusions. "We found it very easy and straightforward to use the caps – and that was because of the help and support we received from Theresa. She sent us videos showing how to put them on."
Rachel adds, "They felt a bit cold, but it was worth it. I would say to use a sheer stocking cap and panty liners on the forehead and ears to prevent these areas from freezing. It definitely worked for me!"
---
Rachel's hair loss results
"I have very thick, long, wavy hair. I shed just the tiniest amount and have retained 98% of my hair. It's amazing!
"I would recommend Penguin Cold Caps to anyone that wants to save their hair on chemotherapy."